SGTO Providing Great Training At A Reasonable Price
We believe in providing excellent services and support
Becoming a security guard in Ontario requires that you complete standardized training. Securityguardtrainingontario.com provides an online version of this training. Securityguardtrainingontario.com believes that learning and education should be accessible to everyone, no matter where you live, where you're from, or what your schedule is. We believe in supporting people in achieving their goals through easy to understand learning & education, and providing those valuable services at an affordable price. Using the latest in online, web-based technologies, our programs are accessible, interactive, and up-to-date, with relevant content, sample videos and practice tests that are in line with current industry best practices. We are committed to providing the highest level of customer service that ensures the success of all of our clients. With securityguardtrainingontario.com you can focus on completing your training at your own pace, from wherever you are, comfortable and secure in the knowledge that help is just an e-mail or phone call away.
Your Training Provider WPSL
WPSL Security Solutions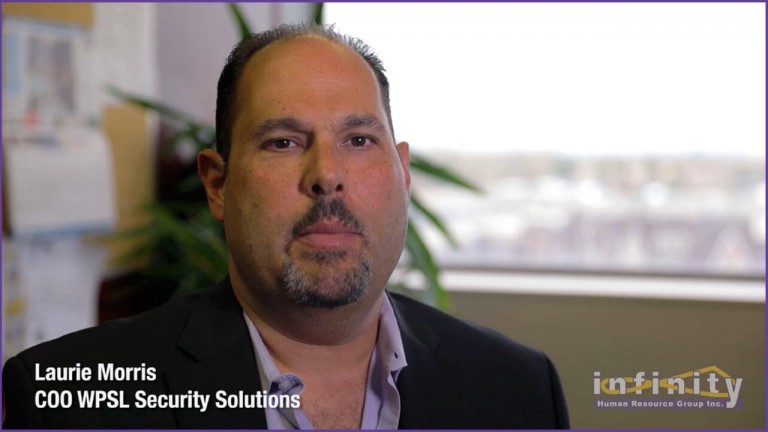 Introduction Video
Securityguardtrainingontario.com has partnered with WPSL Security Solutions to provide the very best Online Security Guard Training program. Our program meets the requirements of the Ministry of Community Safety and Correctional Services, with a level of customer service that will ensure your stress free completion of the course.
Online Security Guard Training
Easy, Quick, and Convenient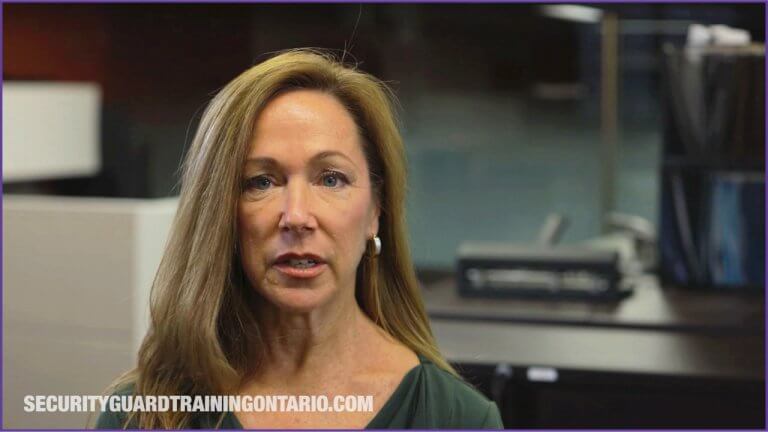 Getting Your Licence
Security is an industry that is steadily increasing in importance, especially since the terrorist attacks of 9/11. Recent world-wide events have also driven the need for additional security personnel. Increased terrorism along with the ever increasing cost of policing, has caused an increase in demand for security personnel. In Ontario, security guards must be licensed under the Private Security and Investigative Services Act (PSISA). The process for obtaining a licence involves meeting the criteria for a licence and completing required training and testing.
Easy Online Registration
Register Online & Start Right Away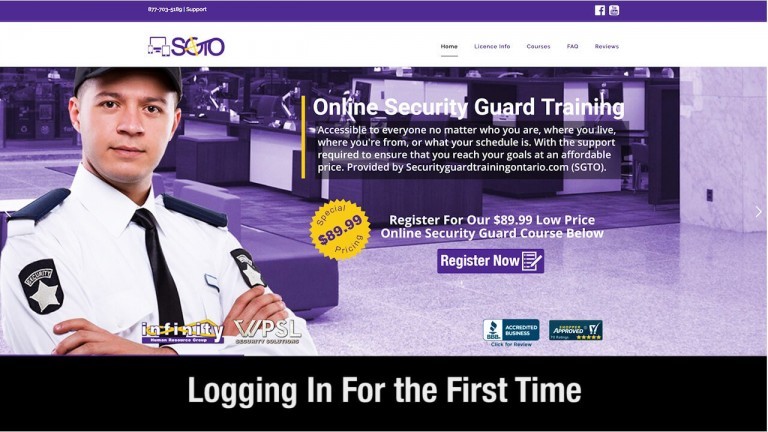 First Login Video
The first login for your Securityguardtrainingontario.com Ministry Approved online Security Guard course is easy and you can start right away. Take a second to review the video and observe the process.
Easy & Convenient Instructor Based Online Training
SGTO Providing Training That Is Easy, Convenient, And Accessible
Get your licence online with Securityguardtrainingontario.com. Getting your security guard course completed is easy and convenient when you can use any device with an Internet connection. Whether you use a desktop, laptop or tablet device, you can progress at your own pace, with full instructor support. No need to schedule time from work to attend a class. Once registered you will always have access to the course and its resources, as the course does not expire. Please note that you do require St. John Ambulance or WSIB equivalent Emergency First Aid certification. If you do not currently have certification we can assist you with registering for a blended online/in-class program.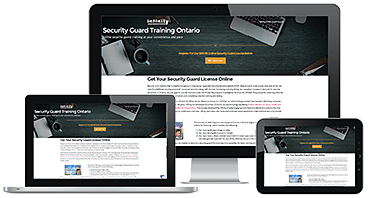 Securityguardtrainingontario.com is a division of Infinity Human Resource Group Inc. (Infinity), an online training provider that has been delivering computer based and online training for over 20 years. Infinity has developed a number of online courses including mandatory Ontario Ministry of Labour Health and Safety Awareness courses for Workers and Supervisors. The courses developed by Infinity employ engaging and interactive elements that course content is clear easy to understand content that is easy to understand. Infinity instructors also have extensive real world experience in law enforcement and provide excellent support. To complete a sample module click on the image to the left of this text. Please ensure that you are using a desktop, laptop, or tablet computer with a minimum screen size of 1020 by 700 pixels. Your browser will also have to be HTML5 compatible.
The training provider who will be responsible for submitting your results to the MCSCS and obtaining your training number is WPSL Security Solutions.
The process of obtaining your security guard licence in Ontario begins with ensuring that you meet the criteria for licensing, which includes the following:
You must be 18 years of age or older.
You must be eligible to work in Canada.
You must have a clean criminal record (which means you must not have been convicted of, and not been granted a pardon for, any of the offences set out in the following link Offences).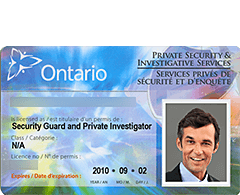 Once you have confirmed that you are eligible to become a security guard the next step is to complete the basic training and testing requirements. The PSISA mandates that all new security guards must complete a basic training course and pass the basic ministry test before applying for a licence.
SGTO's Online Security Guard Training
Our Course Does Not Expire - Fast Or Slow It Is Up To You To Decide When You Finish
Now that you are sure that you meet the criteria to be a security guard in Ontario the next step is to register for the basic training course. Infinity, which runs the Securityguardtrainingontario.com site, has partnered with WPSL Security Solutions to deliver the basic training in an online format. As a dedicated online design and development company Infinity has extensive experience in creating computer based learning. The course developed by Infinity meets all of the requirements of the PSISA and provides a number of enhanced features not found in many other providers' courses. These features include professional voice narration, interactive learning exercises, and custom security based video.
Securityguardtrainingontario.com has partnered with a number of Canadian Red Cross training providers to secure special priding of $75.22 for the blended Emergency First Aid course. Once you sign up with us you will have access to a number of courses in the GTA at that price. Even if there is not a provider near you we still recommend finding the closest Canadian Red Cross training provider that delivers blended training as the costs are generally lower and you will be able to complete a portion of the training online.
NOTE: Your first aid training certification MUST be from a St. John Ambulance or WSIB certified instructor as per Ministry of Community Safety and Correctional Services rules.
Online course delivery is one of the options available to you to complete your basic training course. Securityguardtrainingontario.com's Instructor Led PSISA Online Course provides the following benefits:
Complete at your own pace
Access the course from anywhere
Access the course at anytime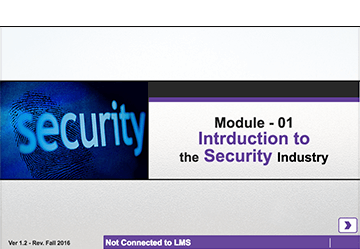 There are many organizations that deliver training both online and in-class. The cost of an online course varies significantly between organizations and can cost as much as $299.00 (including emergency first aid). Securityguardtrainingontario.com's online program costs $69.99 plus HST, summer special for a limited time only!  Please note that you do not have to have first aid certification before starting the course. You can obtain your first aid certification after starting.